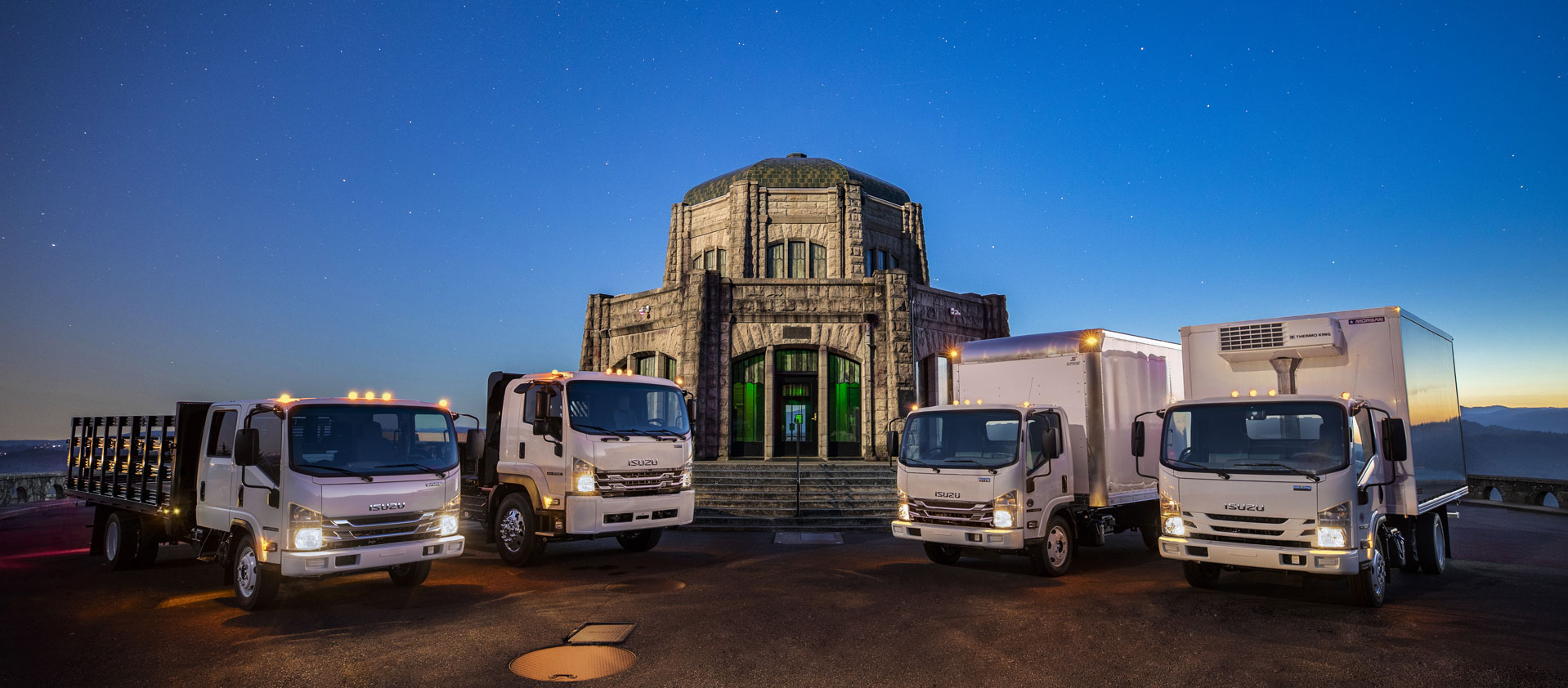 Ferias comerciales
Throughout the year, Isuzu participates in numerous trade shows to show our support of the vocations and industries that use our trucks. Often, leading body companies build unique bodied trucks with the leading body companies to display for the special event. Our local dealers are on hand to help answer questions and find the best Isuzu truck to fit your business need. Please come visit us at a show near you!
Trade Show
Dates
Location
January 2019
Engage Biodiesel Conference & Expo
21-24
San Diego, CA
February 2019
American Rental Association Show
17-20
Anaheim, CA
National Grocers Association Show
24-27
San Diego, CA
March 2019
International Restaurant & Foodservice Show
3-5
New York, NY
The Work Truck Show
5-8
Indianapolis, IN
NADA – ATD (American Truck Dealers) Expo
TBD
Las Vegas, NV
ATA's TMC Annual Meeting
18-21
Atlanta, GA
BevOps Fleet Summit
19-21
Las Vegas, NV
PHCC Flow Convention
23
Pomona, CA
ABC Convention
24-28
Long Beach, CA
April 2019
Home Delivery
4-5
Philadelphia, PA
Craft Brewers Conference and BrewExpo America
8-11
Denver, CA
Truck Renting And Leasing Association (TRALA)
TBD
Scottsdale, AZ
National Private Truck Council
14-19
Cincinnati, OH
May 2019
American Towman
9-10
Las Vegas, NV
June 2019
Northeast Building & Facilities Mgmt Show
TBD
Boston, MA
The Clean Show
20-23
New Orleans, LA
July 2019
None Currently Planned
August 2019
Texas Nursery & Landscape Expo
8-10
San Antonio, TX
Western Foodservice & Hospitality Expo
25-27
Los Angeles, CA
September 2019
NTEA Truck Product Conference
TBD
Novi, MI
Florida Restaurant & Lodging Show
TBD
Orlando, FL
NBWA Expo
22-24
San Diego, CA
October 2019
Ground Support Equipment (GSE) Expo
TBD
Las Vegas, NV
SOCAL Work Truck & Van Show in conjunction with the OC Auto Show
TBD
Anaheim, CA
Green Industry & Equipment (GIE) Expo
16-18
Louisville, KY
North American Commercial Vehicle Show (NACV)
28-31
Atlanta, GA
IFDA Distribution Solutions Conference
TBD
TBD
November 2019
Tree Care Industry (TCI) Expo
7-9
Pittsburgh, PA
December 2019
None Currently Planned
*Please note that these dates are for the public and do not include move-in, move-out or press days.