Isuzu F-Series
The New
Heavyweight
Champ
Video Highlights
F-Series Highlights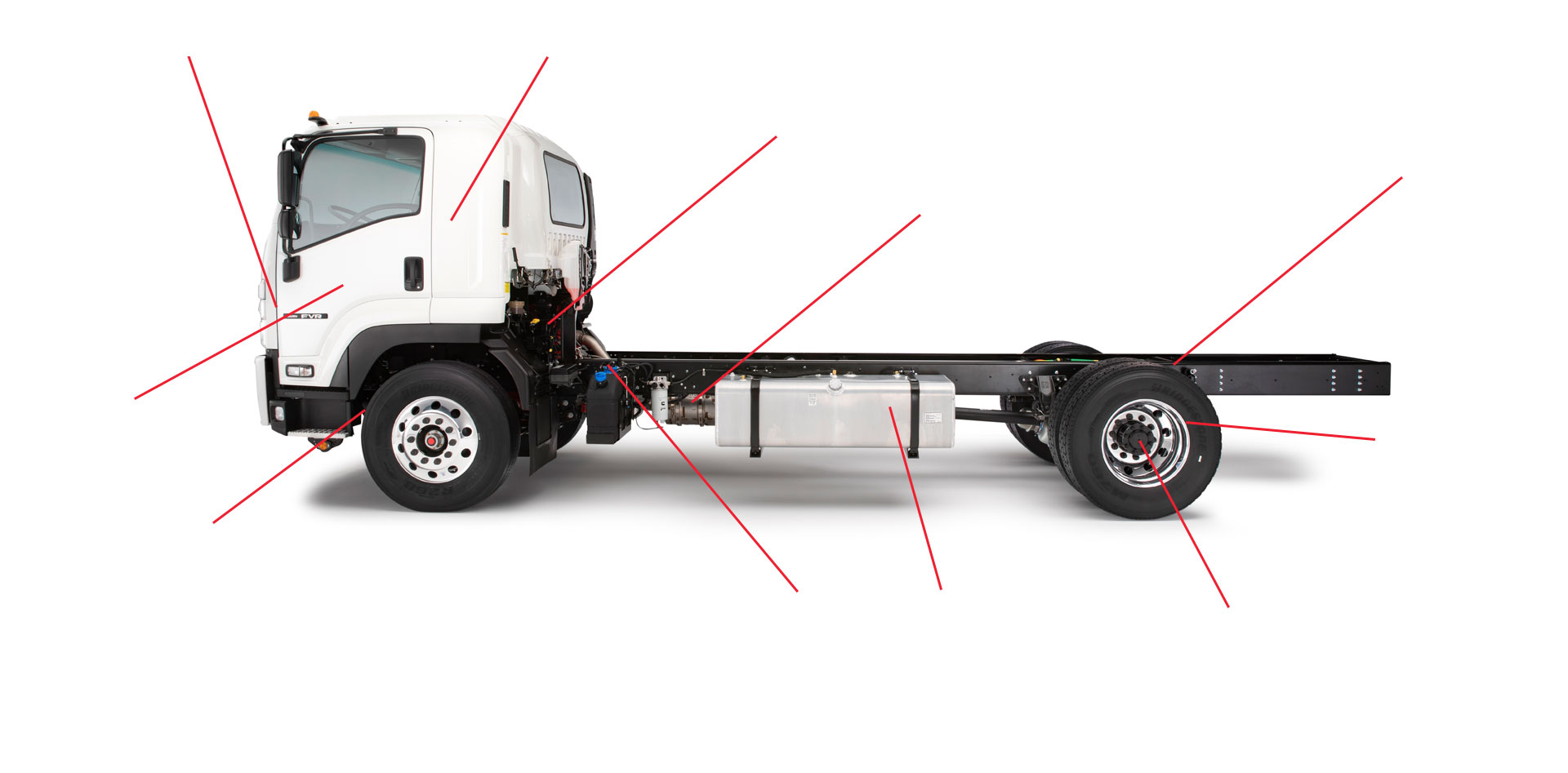 OVERALL LCF BENEFITS
Isuzu is the #1 selling low cab forward truck since 1986. Much of that success is due to a superb low cab forward chassis design that provide drivers and owners alike benefits that they value.
Maneuverability: Isuzu trucks are class-leading in maneuverability. Their inner wheel cuts allow for sharper turning and reduces three-point turns which saves driving time and makes for safer driving.
Visibility: The large windshield, higher seating position and less forward mass gives drivers a clearer view in front of the truck and allows them to safely judge their proximity to objects in tight urban environments.
Larger CA (Cab-to-Axle): Isuzu trucks have a larger CA than our conventional cab competitors. This allows for larger bodies to accommodate more cargo on similar wheelbase lengths.
X
TURNING DIAMETER
The Isuzu F-Series' 50° inner wheel cut provides a class-leading turning diameter that eases driver effort in tight urban environments. This reduces the number of three-point turns in your routes, saves you driving time and makes for safer driving.
X
WHEELS / TIRES
Isuzu F-Series trucks are equipped with standard 11R22.5 tires on steel wheels. Customers can opt for aluminum wheels and, on the class 6 FTR, have the option for low-pro tires that lower the chassis for special applications like rollback bodies.
X
AIR SUSPENSION
The Isuzu F-Series trucks are available with air suspension. The standard air compressor outputs 17-CFM to quickly fill the air tanks and fill the suspension's air bags. This option is popular for customers hauling fragile cargo or who need to lower the chassis height for loading and unloading.
X
FUEL TANKS
The Isuzu F-Series offers a 50-gallon and a 100-gallon fuel tank. This gives customers the option to increase their range and lessen fuel stops. In short, it helps save time and time is money.
X
WHEELBASES
The Isuzu F-Series will offer eight wheelbases making it one of the most versatile chassis in the Class 6 and 7 segments. From a 152-in to 248-in. wheelbase, customers will have choices that will accommodate a number of custom upfits and bodies up to 30-feet in length.
X
ENHANCED INTERIOR
The new interior in the F-Series trucks have dual-colored seats with a two-tone grey interior design that creates a comfortable cabin for passengers.
X
ALLISON® RDS TRANSMISSION
The Allison Rugged Duty Series Transmission was built for the medium-duty market. It's proven durability and reliability provide greater uptime with a lower cost of operation.
FTR: Allison 2550 RDS (Includes Park Pawl)
FVR (De-rate): Allison 2500 RDS (No Park Pawl)
FVR: Allison 2500 RDS (No Park Pawl)
X
EXHAUST
The Cummins Single Module After-Treatment has a linear design to keep the frame rails clean. It incorporates the diesel particulate filter (DPF), selective catalyst reduction (SCR), exhaust cooler and electronic exhaust restriction into a compact single-piece unit.
X

CUMMINS B6.7L ENGINE
The B6.7 is the most popular engine ever built by Cummins and rightfully so...; it's been tested and proven over almost 40-years with more than 13 million engines produced and billions of miles driven.
The B6.7 is a 6-cylinder diesel engine that generates 260 horsepower and 660 lb.-ft. of torque. This power and torque combination easily moves heavier payloads through urban environments and on the highway.
X
LED LIGHTS
LED headlamps and daytime running lights improve safety and styling. With brighter illumination, drivers have better visibility in nighttime conditions and trucks are more easily visible to pedestrians and oncoming traffic.
X
MODEL SPECIFICATIONS
FTR

Class: 6

GVWR/GCWR

25,950/30,000 LBS.

SEE SPECS

FVR

Class: 7

GVWR/GCWR

33,000/33,000 LBS.

SEE SPECS

FVR

Class: 6

de-rated

GVWR/GCWR

25,950/33,000 LBS.

SEE SPECS


STANDARD WARRANTY
NEW VEHICLE LIMITED WARRANTY
2023 MY Only
Warranty Limitations: Time or Mileage, Whichever Comes First
New Truck Warranty
Time in Years
Vehicle Miles
Basic
3
Unlimited
Engine*
3
Unlimited
Transmission**
3
Unlimited

Drive Axle
Driveshaft
Front Axle I-Beam
Crossmembers
Flywheel Housing

3
Unlimited
Frame Rails
3
5†
Unlimited
Unlimited†
Corrosion (Rust Through)
4
Unlimited
Roadside Assistance
3
5††
Unlimited
100,000††
Emission Warranty
Time in Years
Vehicle Miles
Federal Emission /Control System†††
5
100,000
CARB Emission /Control System†††
5
150,000
GHG Emission
5
100,000
Tires
2
24,000
*The Cummins engine is warranted separately by Cummins.
**The Allison Automatic Transmission is warranted separately by Allison Transmission.
†After 3 years, coverage is 50% labor and parts for up to 5 years.
††Tows related to emissions issues may be covered for up to 5 years or 100,000 miles (whichever comes first).
†††Emission components are covered by either Isuzu or Cummins; see your Isuzu dealer for details.
The warranty coverages are determined by the mileage of the vehicle and the number of years from the delivery date. The warranty coverages are limited by whichever occurs first. See your authorized Isuzu dealer for warranty details.
Gallery